Need for Speed Hot Pursuit Downloads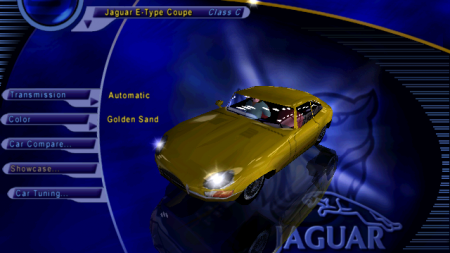 JAGUAR E-TYPE COUPE
Add-on car for NFS III
Version :2.0
Realeasedate :around May 01.1999
Author: :Manuel Fernández
E-mail: :blevr6h@telcel.net.ve
Modifications from V1.0: A complete body rework.
Added bumpers, proper lights and an interior.
You can look inside and see seats, a driver
and the dash. Also added the hood bulge.
Reworked the mesh and textures. Raised the
dashboard a bit. Added rear badge and plate
Made a loading slide. Changed
the serial number. Added a few colors.
Installation:
You must create an "Etyp" subdirectory in your
\Gamedata\Carmodel subdirectory, and unzip the
car.viv file in there.
Unzip the loading slide file 06_00.qfs
into the \FeData\art\slides folder.
The serial number for this car is 06. It used
to be 60138 but I changed it to view the loading
slide. If you have trouble you must change the
number with a program like Vivwizard. Remember
to rename the first two numbers in the 06_00.qfs
file to match the new serial. Up to 50 the slide
will work; if that's important to you.
Explanation:
This was the Aston Martin DB7, but after a severe
beating and welding it now resembles the legen-
dary XKE (E-type) Jaguar, series I, from the 1960's
I Used the original color names, that's why they sound
so silly. Opalescent maroon? really!
The performance data is taken from the XK8 Jag and
tweaked to resemble that of a 1967 E-cat. This is a
class C car but it's very competitive in B too.
Most annoying bugs:
-Glass is too clear.
-The body is still too rough.
-Performance is a bit optimistic (Not that much!).
-I don't own one.
Future improvements.
-More accurate performance, whenever I find the correct
torque curve, gear ratios and such.
-A real one (for model research, you know) if I win the
lottery ;-)
Aknowledgements:
- Thanks to the VivWizard creator for making it much,
much easier.
- Thanks to the NFS gaming community for the cool
editors, tips and enthusiasm.
- Thanks to EA for the game and the cartool program.
Legal paraphernalia:
- Don't sue me! All Need For Speed titles are Copyright
of Electronic Arts. Sue 'em instead!
- The fantastic VivWizard V0.7 is Copyright 1998/99
of Jesper Juul-Mortensen
- Jaguar and the E-type/XKE name are trademark of Jaguar.
You can tweak/modify/sack/pillage/whatever the
files included in this zip archive. Just remember
to give me credit and make me famous or your dog
will grow fleas!