Need for Speed Hot Pursuit Downloads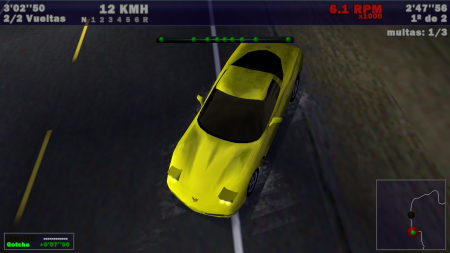 Added On January 15, 2022
File updated on: May 25, 2022
Higher quality model as EA replacement plus a few minor fixes.
Stats:
512x texture for high quality texture mod on VEG patch
256x texture can be used instead by renaming CARGAR.TGA
3045 total combined polygons for compatibility with unpatched game:
1753 polygons for high quality model (LOD0)
804 polygons for medium quality model (LOD1)
424 polygons for low quality model (LOD2)
12 polygons for tiny model (collision) plus 52 for headlamps
Custom sound based from PSX High Stakes samples, assisted by Meteor
Dashboard was left unmodified as it was on spec
Slighty revised gear efficiency to remove shift skipping
Major thanks to NFSF1McLaren for providing valuable obsessive information about lots of car's details.
Version 1.3

uploaded May 25, 2022

rata_536 uploaded a new version. The new file is 1.19 MB.

Improved the CORVETTE script to be transparent, this time without transparency issues. This solves an annoyance with chrome.

Version 1.2

uploaded February 8, 2022

rata_536 uploaded a new version. The new file is 1.19 MB.

Corrected blue colour name to Navy blue (Thanks to NFSF1McLaren)

Initial version

uploaded January 15, 2022

rata_536 uploaded initial version. The original file is 1.19 MB.