Need for Speed Hot Pursuit Downloads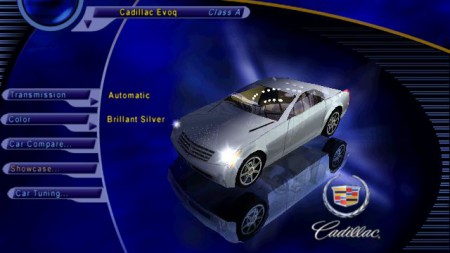 Added On January 18, 2022
Made by Klaus Heyne for NFS4
Converted to NFS3 by Skoti
Downloaded from
--> www.nfs2000.de
******************
Cadillac Evoq, Luxury Roadster
by Klaus Heyne, k.heyne@netcologne.de
The beautiful concept car of 1999 by Cadillac. This car (the original one :-) has got many design awards and will be build in 2003. It's a convertible with hard top. Pressing a button, the roof moves automatically behind the seats. It has no mirrors, but cameras(!) and in the dark you can activate the "Night Vision" system - an infrared camera system that projects a heat picture onto the windshield (HUD) (I hope that NFS6 or 7 will support such high tech stuff!).
I put the car into the class AA; it has a V8 32valve Northstar engine with 405 hp.
Installing the car
- Unzip all files into the NFS4 main-directory.
- Start "Install_Cadillac_Evoq.bat".
The batch creates a new car folder "Evoq" in the "\data\cars\"-folder of the nfs main-directory and moves the "car.viv" into it. The videowall file "evoq.qfs" will be moved to "\data\feart\vidwall\".
Used tools:
- Cinema4DXL 5.31 (modelling and texture mapping)
- Photoshop 5.5 (creating the textures, videowall and predefined colors)
- FCE Compiler (converting to NFS4 mesh data file)
- NFS Wizard (putting all together and editing car performance data)
Thanks to Jesper Juul-Mortenson for developing "NFS Wizard" and "Addict" for decoding and publishing the NFS FCE mesh data file format.
You may distribute the zip file in it's original state for free.
The rights of all company names and logos as well as trademarks and registrations are reserved by the respective companies.
************************************************************************************************************
Visit "www.heyne-multimedia.de/nfs" for downloading NFS4-cars, tools and tutorials!