Need for Speed Carbon Downloads
2016 Mercedes-AMG C63 S Coupe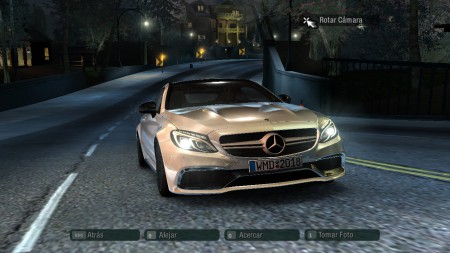 Added On November 25, 2020
Views 1,465
Downloads 227
This car replaces None (Addon car)
2016 Mercedes-AMG C63 S Coupe [C205] [ADDON]
***DON'T UPLOAD THIS MOD IN ANOTHER SITE WITHOUT MY PERMISSION***
***BEFORE YOU DOWNLOAD: I'm not sure if this mod is Compatible with Carbon Battle Royale, Improvement Mod or Endgame Mod, since it was tested on base game. Downloading and installing this mod means that you take the risk***
Conversion from Project CARS 2, with some parts from Need For Speed Heat Studio.
It's an Addon, so it doesn't replace anything, but you will need some stuff to make it work correctly.

What does this mod have?
-Custom Performance Data.
-Custom Sound.
-Autosculpt [Front Bumpers (3, Grill Details); Skirts (2, Door Handle Details); Spoilers].
-Aftermarket [Spoilers; Rims].
-Visuals [Paint, Rim Paint, Window Tint and Ride Height].
-Roof [Installed by selecting any Roof Scop;requieres AR4I's Extended Customization: https://nfsmods.xyz/mod/1798].
Special Things
-Need For Speed Undercover's Driver.
-Working Brakelight texture.
-Cops call this as "Mercedes".
-Proper Window and Body Damage.
-Unlocked alongside Aston Martin DB9.
Bugs and some details...
-Vinyls are disabled (intentionally).
Did you find another bug? Let me know.
How to Install / Uninstall
Every step and links to resources are fully detailed in "readme.txt". If you have problems, you can send me a PM or comment.
Last comments
+Maybe in a future update I will add Vinyl Customization (UV Mapping fix).
+As always... Do you think performance can be improved? Feel free to edit, but please share to the community, so everyone will enjoy the mod.
Credits
+Slightly Mad Studios.
+id-daemon, LamboMantisMan23: Mesh and Textures.
+s.s.t.: ripping the model from Need For Speed Heat Studio.
+AJ_Lethal: Edited NFSHP'10 Tire Texture.
+Oleg: ZModeler 2.2.5.
+dotPDN LCC.: paint.NET.
+nfsu360: NFS Carbon ModTools v1.1, NFS VltEd v4.5, NFS-TexEd v0.9.1 and v1.1.
+maxhwoy: Binary v2.2.0.
+Henry_Allen05: Conversion to Need For Speed Carbon.
Version 1.0.1

uploaded December 9, 2020

Henry_Allen05 uploaded a new version. The new file is 10.38 MB.

Added "scripts" folder. Someone forgot to include files for Extended Customization (LOL)

Initial version

uploaded November 25, 2020

Henry_Allen05 uploaded initial version. The original file is 10.38 MB.