Need for Speed Carbon Downloads
1994 Mazda MX-5 Miata (NA)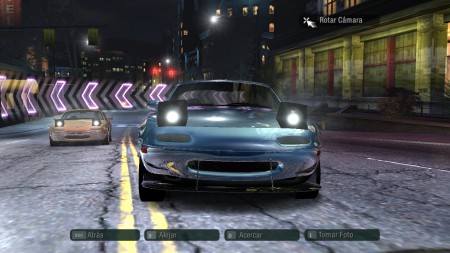 Views 1,474
Downloads 185
Version Carbon
Brand Mazda
This car replaces Toyota Corolla GTS (COROLLA)
1994 Mazda MX-5 Miata (NA) [REPLACE]
Zoom-Zoom…

This is my first mod here in NFSAddons. Have Fun!
***DON'T UPLOAD THIS MOD IN ANOTHER SITE***
***BEFORE YOU DOWNLOAD: I'm not sure if this mod is Compatible with Carbon Battle Royale, Improvement Mod or Endgame Mod, since it was tested on base game. Downloading and installing this mod means that you take the risk***
Conversion from Forza Motorsport 4.
This car replaces Toyota Corolla GTS.
What does it have this mod?
-Custom Performance Data: this car has it own performance data, stock and custom.
-Custom Sound for Stock and Custom.
-Autosculpt Front Bumpers: You have 3 different front bumpers, non-customizable.
-Autosculpt Rear Bumper: You have 1 custom bumper (Stock Rear Bumper with Diffuser), non-customizable.
-Autosculpt Skirt: You have 1 custom skirt, non-customizable.
-Bodykits: You have only one bodykit that changes bumpers, hood and seats, courtesy of 2010's Mazda MX-5 SuperLight (maybe in the future more kits added).
-In-Game Spoilers: You can use the spoilers from the game (Aftermarket and Autosculpt).
-Rims.
-Carbon Fiber Roof: You can change roof in Hood Section (Aftermarket and Autosculpt).
-Paint.
-Vinyls: Not the best UV-Mapping, but you can apply vinyls without problems.
-Rim Paint.
-Ride Height.
-Window Tint.
Special Things
-Need For Speed World's Female Driver with yellow shirt and blue jacket.
-Working pop-up headlights.
-Working Brakelight texture.
-Working Autosculpt Exhausts (Only when Autosculpt Rear Bumper is Installed).
-Cops call this as "Mazda".
-Proper Window Damage.
-Need For Speed Undercover's License Plate Texture: You can add your own License Plate without change the original one from the game.
Bugs
-As I said in "What does it have this mod?", UV-Mapping is not the best.
-Did You found another one? Please comment.
Installation
Every Step is fully detailed in "readme.txt". If you have problems, feel free to comment
Last comments
-Do you think performance can be improved? Feel free to edit, but please share to the community, so everyone will enjoy the mod.
-It's the first post. And I have more cars in mind to convert, so NO REQUESTS (maybe in the future).
Credits
-Turn 10 Studios.
-DMN: Ripping the model.
-Oleg: ZModeler 2.2.5.
-Make Davis & JYSB59: Forza Studio 4.6.
-dotPDN LCC.: paint.NET.
-nfsu360: NFS Carbon ModTools v1.1, and NFS VltEd v4.5, NFS-TexEd v0.9.1 and v1.1.
-maxhwoy: Binary v1.0
-Electronic Arts: UC's License Plate texture and World's Female Driver 3d Model.
-AJ_Lethal / johnson880319: World's Female Driver Texture.
-Henry_Allen05: Conversion to Need For Speed Carbon.
Special Thanks to…
nlgzrgn, I've learned the basics thanks to his tutorials.
Next to be uploaded: 1966 Ford GT40 Mk. II