Need for Speed Carbon Downloads
2012 Jeep Grand Cherokee SRT8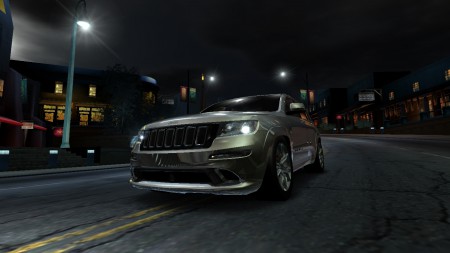 Added On October 15, 2020
Version Carbon
Brand Jeep
This car replaces None (Addon car)
2012 Jeep Grand Cherokee SRT8 [ADDON]
***DON'T UPLOAD THIS MOD IN ANOTHER SITE WITHOUT MY PERMISSION***
***BEFORE YOU DOWNLOAD: I'm not sure if this mod is Compatible with Carbon Battle Royale, Improvement Mod or Endgame Mod, since it was tested on base game. Downloading and installing this mod means that you take the risk***
Conversion from Need For Speed World.
It's an Addon, so it doesn't replace anything, but you will need some stuff to make it work correctly.

What does this mod have?
-Custom Performance Data.
-Custom Sound.
-Autosculpt [Front Bumpers (1); Rear Bumpers (1); Exhausts (when Rear Bumper is Installed)]
-Aftermarket [Hoods (1 - Stock Carbonfiber); Rims]
-Visuals [Everything]
Special Things
-Need For Speed Undercover's Driver.
-Working Brakelight texture.
-Cops call this as "Chrysler".
-Proper Window and Body Damage.
-Unlocked alognside Vauxhall Monaro VXR.
Bugs and some details...
-Did you find a bug? Please comment or PM me.
Installation
Every step and links to resources are in "readme.txt". If you have problems, feel free to PM me.
Last comments
+As always... Do you think performance can be improved? Feel free to edit, but please share to the community, so everyone will enjoy the mod.
Credits
+Electronic Arts: Mesh and textures.
+Oleg: ZModeler 2.2.5.
+dotPDN LCC.: paint.NET.
+nfsu360: NFS Carbon ModTools v1.1, NFS CarToolkit v2.8, NFS VltEd v4.5, NFS-TexEd v0.9.1 and v1.1.
+maxhwoy: Binary v2.2.0.
+Henry_Allen05: Conversion to Need For Speed Carbon.