Need for Speed Carbon Downloads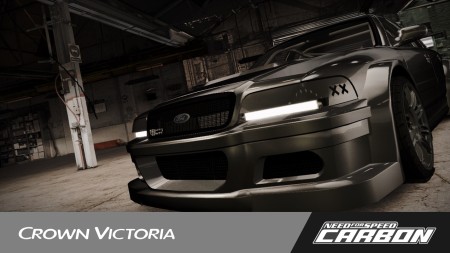 Added On January 18, 2023
This car replaces None (Addon car)
Car Name: Ford Crown Victoria
Base Model: Need for Speed: Unbound
Cost: 45.000
Change Log
Autosculpt Parts
Front Bumper: Stock + 52 custom front bumper

Rear Bumper: Stock + 32 custom rear bumper

Skirt: Stock + 12 custom skirt

Aftermarket Parts
Bodykit: Stock + 5 bodykit

Spoiler: 11 custom spoiler

Hood: 12 custom hood

Interior: Stock + 2 custom interior

Roof: Stock + 1 custom roof

Brakelight: Stock + 4 custom brakelight

Headlight: Stock + 2 custom headlight

Side Mirror: Stock + 18 New custom mirror

Attachment Slots
Driver Seat

Passenger Seat

Grill

Roof Spoiler

Roof Attachments

Boot Option

Rollcage

Make sure you already have Binary, VLT-Ed, & NFS: C Unlimiter installed. The installation is very easy.
1. Open your Binary & select "User Mode"
2. Choose "Binary Data Install.end"
3. Select your Carbon folder
4. Save, but don't run your game yet
5. Open your Vlt-Ed and then import the "VLT Data Install.nfsms"
6. Click install
7. Close the window & then save it
8. Open your Carbon
9. Create a new save & have fun
Q: Why you didn't include the Legendary Custom body kit?
A: I want to, I tried but it doesn't look right for me. So I cut that kit
Q: Why the car looks so big
A: Crown Vic in general is a big, chonky, walking brick car. I already compare it with the one in NFS: World & the size is exactly the same
Q: Most Wanted version when?
A: Terminator Vasya took care the MW port of this mod
Q: Can I use Ed & Binary car addon together?
A: You better install the Ed car mod manually using Binary
Q: Can I include this car to my modpack?
A: Depends, ask me on Discord first, Vee#0875
ASC (NFS: Unbound model)

Flatto Catto (The Crew 2 model & Toyota Chaser BN Sports kit)

KenjaMago (Custom performance)

LossTunes (Bride Vios III model)

RisaDriftR (Beta tester)

Tork98 (Beta tester)

Shapeshifter (Beta tester)

MaxHwoy (Binary)

Archie (Extended Customization)

nlgzrgn (Unlimiter & ExOpts)

nfsu360 (VltEd)

Someone else that I forgot lmao