Need for Speed Carbon Downloads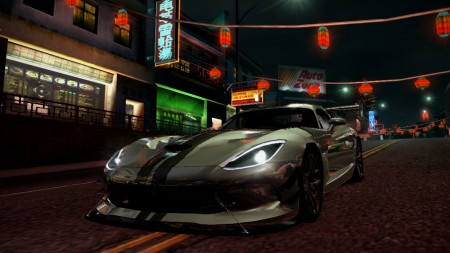 Added On December 5, 2022
Views 2,646
Downloads 357
This car replaces None (Addon car)
2017 Dodge Viper ACR [XNAME: ACR17]
***DON'T UPLOAD THIS MOD IN ANOTHER SITE WITHOUT MY PERMISSION***
***BEFORE YOU DOWNLOAD: This mod was developed and tested on a clean game with the most recent version of Extended Customization and under the limit of 44 car addons. Compatibility with other big mods is not guaranteed. Downloading and installing this mod means that you take the risk***
***MOD NOT COMPATIBLE WITH THE LATEST VERSION OF CARBON BATTLE ROYALE. DON'T ASK FOR SUPPORT FOR THAT MOD.***
Conversion from Project CARS 3 with parts and textures from Need For Speed (Carbon, Pro Street, World and Hot Pursuit 2010).

***Refer "readme.txt" for customization features and credits info. Thanks for download***

Bugs and some details...
Vinyl UV-Mapping may not be perfect but you can apply vinyls with no problem.
Some stock colors offer the capability of add stripes. Those ones are from vanilla Viper, so if you remove them, they won't be available in Vinyl section, so you need to re-acquire the stock car in Carrer/My Cars.
Did you find another bug? Check "Q and A.txt", maybe the problem you are having is there, otherwise don't hesitate to let me know.
Installation
Every step and links to resources are fully detailed in "readme.txt". If you have a problem during installation, let me know.
Last comments
This car mod was finished before the 360 Modena, but I decided to upload it after that one.
Heat Icon in main picture means this car has limited customization.
Due to IRL work, I won't be able to upload/update mods for a while. The 360 Modena and this Viper were the last ones I could make before getting busy. So... maybe this mod could be the last one for this year. In that case I want to say thank you for downloading my stuff, commenting and evaluating them, and well... see you until 2023. Best wishes for the upcoming year!
Request are CLOSED for now.
Apparently, PC3's model is based on Extreme Aero version. The "Normal" version can be replicated with bumper selection.
This is a Viper version with a very limited customization, maybe in a future I could release the standard SRT Viper with more customization features, who knows... And just like my previous mods, if you want some radical/fancy custom parts, I'm so sorry but this is not a mod for you.
As always... Do you think performance and/or sound can be improved? Feel free to edit, but please share them to the community, so everyone will enjoy the mod.
Take a look at these mods, maybe you like one of them: