Need for Speed Carbon Downloads
1957 Chevrolet Bel Air Sport Coupe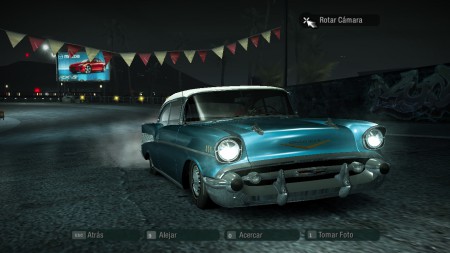 Added On December 29, 2020
Version Carbon
Brand Chevrolet
This car replaces None (Addon car)
1957 Chevrolet Bel Air Sport Coupe [ADDON]
Saying goodbye to 2020... with style!
***DON'T UPLOAD THIS MOD IN ANOTHER SITE***
***BEFORE YOU DOWNLOAD: I'm not sure if this mod is Compatible with Carbon Battle Royale, Improvement Mod or Endgame Mod, since it was tested on base game. Downloading and installing this mod means that you take the risk***
Conversion from Forza Motorsport 4.
It's an Addon, so it doesn't replace anything, but you will need some stuff to make it work correctly.

What does it have this mod?
-Custom Performance Data.
-Custom Sound.
-Autosculpt [Front Bumper(1); Rear Bumper(2), Skirts(1); Exhusts]
-Aftermarket [Hoods(4); Rims]
-Visuals [Everything]
-Roof [Installed by selecting any Roof Scop, requieres AR4I's Extended Customization: https://nfsmods.xyz/mod/1798]
Special Things
-Need For Speed Undercover's Driver with Red Jacket.
-Working Brakelight texture.
-Cops call this as "Sports Car".
-Proper Window and Body Damage.
-Unlocked after completing Gold Challenge Pursuit Lenght.
-OPTIONAL: Binary Preset to make Neville drive this car.

Bugs and some details...
-Did you find a bug? Please comment.
Install/Uninstall
Every step and links to resources are fully detailed in "readme.txt". If you have a problem, PM me or comment.

Last comments
+This is the last car for 2020, a f'd year for all of us I guess, but fortunately we're still here in this life making our best efforts to go forward and reaching our dreams and goals. Keep safe and let's make this 2021 a better year!
+As always... Do you think performance can be improved? Feel free to edit, but please share to the community, so everyone will enjoy the mod.
Credits
-Turn 10 Studios.
-DMN: Ripping the models (FM4 base model, and some parts from Driver San Francisco and Forza Horizon).
-Ghost Games: License Plates textures (taken from Payback).
-Oleg: ZModeler 2.2.5.
-Make Davis & JYSB59: Forza Studio 4.6.
-dotPDN LCC.: paint.NET.
-nfsu360: NFS Carbon ModTools v1.1, NFS VltEd v4.5, NFS-TexEd v0.9.1 and v1.1.
-maxhwoy: Binary v2.4.0
-Electronic Arts: License Plate and Driver.
-Henry_Allen05: Conversion to Need For Speed Carbon.
Special Thanks to...
+You... for download, play, rate, comment, view and share my mods.