Need for Speed Pro Street Showroom
Brand60's Lamborghini Murciélago LP 670-4 SV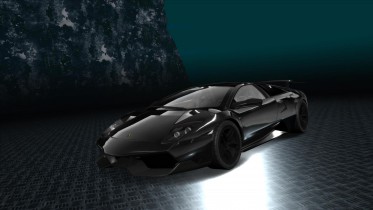 Owner: Brand60Brand60's garage
Viewed: 263 times
Share this showroom:Click to copy URL
Lamborghini Murciélago LP 670-4 SuperVeloce was the most powerful and the last model in the Murciélago series. After 12 years, the SuperVeloce (SV) name was utilised again by the Murciélago, which was previously used by the Lamborghini Diablo SV.

In contrast to the LP 640, the LP 670-4 SV weighs 100 kg (220 lbs)

less, as some parts of the car were replaced by carbon fibre material

such as front/rear fenders and even the casing of the third brake light.

The weight reduction was also achieved by replacing the previously used

moveable rear spoiler with a fixed carbon fibre one and the use of a

lighter exhaust system.Besides that, the LP 670 produces more power than

any other production Murciélago because of a new intake system and

improved valve
timing.At the 2009 Geneva Motor Show, Lamborghini unveiled the ultimate variant of the Murciélago, the LP 670–4 SuperVeloce. The SV moniker had previously appeared on the Diablo SV, and Miura.

The SV variants are more extreme and track-oriented than the normal

production variants and are usually produced in limited numbers. The SuperVeloce's 6,496 cc (6.5 L; 396.4 cu in) V12 engine

generates a maximum power output 670 PS (493 kW; 661 hp) at 8,000 rpm

and 660 N⋅m (487 lb⋅ft) of torque at 6,500 rpm, due to revised valve timing and upgraded intake system. The car's weight was also reduced by 100 kg (220 lb) through extensive use of carbon fibre inside and out. A new, lighter exhaust system

also helps in saving weight. As a result of the extensive weight loss,

the SV has a power-to-weight ratio of 429 hp/long ton. The LP 640's

optional 15-inch carbon-ceramic disc brakes with 6 piston callipers came

as standard equipment with the car. In its June 2009 issue, Car and Driver

magazine estimated that the LP 670–4 SV is capable of accelerating to

96 km/h (60 mph) from a standing start in just 3.0 seconds and on to

161 km/h (100 mph) in 7.2 seconds. Subsequent testing by Road & Track revealed a 0–60 mph (0–97 km/h) time of 3.1 seconds and a quarter mile time of 10.9
seconds

at 129.4 mph (208.2 km/h). Lamborghini claims a top speed of 339 km/h

(211 mph) when the car is fitted with an optional smaller spoiler, or 336 km/h (209 mph) with the standard Aeropack wing. According to Maurizio Reggiani, head of Lamborghini R&D

at the time, the LP 670–4 SV's steering was tuned for high-speed

sensitivity. The original production plan of the ultimate Murciélago was

limited to 350 cars, and cost US$400,000 (before options) £270,038 in

2009. However, only 186 LP 670-4s were produced before the factory had

to make room for the new Aventador production line. The chassis numbers

of the total cars manufactured do not represent manufacturing order.

Only 5-6 cars are known to be produced with a manual transmission.