Need for Speed Most Wanted Showroom
N4SRazer's 1969 McLaren M6GT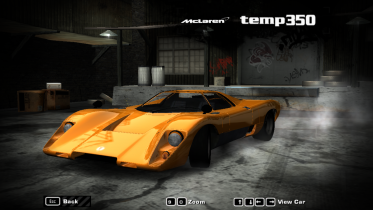 Owner: N4SRazerN4SRazer's garage
Viewed: 215 times
Share this showroom:Click to copy URL
Hello! I am back with another mod!
1969 McLaren M6GT
Converted by N4SRazer aka NFSMWFAN
Model from Simraceway
Replaces: Nothing (ED addon)
Release date: To be announced later
Customisation: Right now it has only performance and visual customisations. More things may be or may not be added over time :P
Things to be added or modified in the future:
1) The headlight positions are wrong (as you can notice in the pictures itself)
2) Need to rework it's performance
3) Add headlights (optional)

4) Add a simple secondary logo
5) If possible, I'll add spoiler, hoods and vinyl customisation too (But I need help for this thing)
P.S My special thanks to Thunderdrift, Eevee, Vrataski, Neon245 and UndercoverBoy833 for helping me during the conversion!