Need for Speed Projects
NFS Most Wanted - Ultimate Edition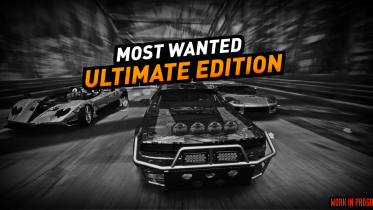 NFS Most Wanted - Ultimate Edition BETA


Warning:
1. Always run speed.exe as administrator!
2. If you choose Project Reginae textures during installation, after the installation is finished go to the folder where the mod is and rename the folder "NEXTGENGRAPHICS" to anything else and start the game from the file "Launcher.exe"

Link to download (LINK PRA BAIXAR): https://drive.google.com/file/d/1FhUGO4rozG3UkEMRmZzdrcSYVG0iVdoH/view?usp=sharing
Aviso para Brasileiros:
1. Caso em algum momento você baixou a tradução da gamevicio, provavelmente o seu jogo não vai abrir de jeito nenhum, mesmo que você tente mudar script ou oq seja, você só tem 1 opção pra resolver isso, VEJA ESSE VIDEO E FAÇA TUDO O QUE ESTA NELE, E NO LUGAR DE "INGLESH"QUE O CARA DO VIDEO COLOCA, VOCÊ DEVE COLOCAR "ENGLISH" (sem as aspas): https://www.youtube.com/watch?v=Qu4hd3gpChU
2. Se você escolher as texturas Project Reginae durante a instalação, após a instalação terminar vá até a pasta onde se encontra o mod e renomeie a pasta "NEXTGENGRAPHICS"para qualquer outra coisa e inicie o jogo pelo arquivo "Launcher.exe".
3. Sempre execute o jogo como administrador.
FOR CREATORS CONTENT (Para criadores de conteúdo): https://drive.google.com/file/d/1aGwgqbum6uAA3Wn5364wumKXEXj3t4So/view?usp=sharing

About:
NFS Most Wanted - Ultimate Edition is a completely free mod inspired in part by the "Redux" modpack, but with the objective not only of adding an absurd amount of cars, but with the objective of bringing new things, such as: a new race type, high difficulty, improved vanilla-style graphics (without exaggeration and with settings from low to very ultra, "adapted" challenge series, new polices without replacing the originals, improvement in vanilla effects and addition of more effects, cutscenes (in case you like it), new mechanics of the cars of the blacklist rivals, among other things that I will tell you in detail. The mod, even though it is in the final stages, I need to know the players' opinion regarding the mod, and especially, if they will like the 2 midnight club 3 style cutscenes that I added when defeating a rival on the list, in which the cutscene shows the cars unlocked, if you like it, I'll do the remaining cutscenes...
Also, I need your opinions on most of the content within the project, I need to know if you will like it, I accept feedback as long as it is constructive in its essence, it can be criticism, but constructive criticism.


Unique content details:
An absurd amount of cars, which, including all the originals, including those of the police, total 142 cars.
New post-processing effects (reshade 5.3.0 together with the enb series), which improve the graphic without departing from the essence of the game, with an immersion effect to improve the experience (if you don't like it, during the game press HOME and disable an effect called "ganosa motion focus"), also citing again, the graphics have different settings that you can change during the game by pressing SHIFT X (wait 20 seconds to change one by one,in case you are using multiple configurations), going from the LOW setting for weak computers, and ULTRA/WTF for nasa computers.
New car damage mechanic, both for the player and opponents, where your car is subject to crash if you crash it too much, if you break your car during a race you must restart it, or if you are in a police chase, you will be BUSTED, there are 3 levels of resistance of the cars that were manually assigned by me to balance the career mode, they are: Fragile, Tough and SUV, I think I don't need to explain anything else, because the names speak for themselves.
New unique car types, where you can only play with them in challenge series mode or get them as a reward from blacklist rival
Addendum: I didn't change the rivals' cars, just the reward car, you will face the same rivals with the same cars!
I did this to encourage the player to use the rival's reward car, as practically everyone sells the rival's car when they earn it in the rewards, but if no one likes it, obviously I'm going to take this feature (except in the challenge series)
New type of race to make up for the amount of cars and the lack of money, a mega circuit of 10 laps with 7 opponents, all of these events have a very high value compared to their place on the blacklist, with a level of forced pursuit, for example, in the first Mega Circuit event, you'll be at chase level 3
"Adapted" Challenge Series, with all unique cars being playable in these events including 3 cars the player will never use except in this mode (I'm not talking about the traffic cars)
Improved vanilla effects, smoke, falling leaves and others that you will notice change during gameplay.
Added and changed effects such as finish line smoke (inspired by the finish line in the Hot Pursuit Challenges mod), changed crash effect and improved effect textures
New speedometers following a little vanilla style, with a total of 12 speedometers added
Price of many changed parts, most priced doubled and tripled (to make your life harder)
Difficulty and cash rewards of ALL events changed, with cash rewards being doubled (or tripled, I don't remember), and the harder difficulty
New chase level cap, going from 1 to 15
New police officers added, all adapted to the new threshold level of pursuit, including a new helicopter
Opponents with different colors, so you can tell who is who
Some altered racing intros (some by me, some by another mod, which I'll quote in the credits)
Car selection at the dealership and car selection from the quick menu with random colors whenever you select a car (a little buggy, as it's a "bug-feature", if I may)
Addendum: your color tuning will be permanent, don't worry, this is only when you buy the car
Purchasable Police Cars, all unlocked once you defeat Razor
Changed some elements of the game's HUD during gameplay
Camera cockpit on virtually every car (except the challenge series police, traffic cars and cars without interiors).
Slightly modified rival entries

Lots of underground 2 vinyls converted to high resolution for all mod cars.




Mods - Credits:

(I'll probably forget about some mods, because I've been working on the Ultimate Edition for 5 months now, if you saw that your mod is in it, please let me know in the comments and I'll analyze it.)

NFSMW EXTRA OPTIONS 9.1.1 by nlgzrgn

NFSMW UNLIMITER 3.3 by nlgzrgn

NFSMW HUD ADAPTER by nlgzrgn

NFSMW RACE FIXES 1.2 by nlgzrgn

NFS CUSTOM FNGs PACK by nlgzrgn

NFSMW WIDESCREENFIX by ThirteenAG

XBOX RAIN DROPLETS by ThirteenAG

NFS HD CONTENT SUPORT by Aero

NFSMW HD REFLECTIONS by Aero

NFSMW HUD RESIZER by Aero

NFSMW Light Streaks/Trails by Xanvier

MWFIXES by GrimMaple

NFSMW FOREST GREEN OUT OF BOUNDS GLITCH PATCH by RaTT (actually I don't know if I used this mod, but probably yes)

NFSMW POLICE REWORK by Aven

Retouch Graphics V7 by P A I N (formerly named HRT)
PORTED NFSC EXHAUTS SOUNDS by Frexellia
NFS UNDERCOVER/WORLD COP SIREN SOUND by Frexellia
INCREASE TRAFFIC DENSITY by stoplookingmypic

Blacklist Remastered by XGAMER

Remastered UI by edoo1

NFSMW Rimpack by Viper4K

Xbox 360 Stuff Pack by elaymm4

Xbox 360 Converted Movies by elaymm4

NFSMW Recompiled Mini Map Files by trackmaniamatt

Story Racing Overhaul by 916skyl1ne

Modernization Patch by iammostwanted

Car Tranny by GXP10

BMW M3 E46 GTR Real Life Sound by KingSlayer

New Car Sounds by nfsu360

NFSMW Leftover Brakes Fix by nlgzrgn

Porsche Carrera GT by trackmaniamatt

Correct Car Sound by XXNFSSOUNDKINGXX

Sound Enhancer by TerraSphere_385

Fluent Track Barriers by Aven

Bonus Car Presets by KylaAngelineKZYeng

Race Blacklist NISes by Zookjn

Better Light Flares by Avalanche

Rush Hour Traffic by Splash45

New camera angles by ALi

Improved Music byVanueke

Better GTO And Monaro VXR by rybetasz

Shared Textures and Materials by PedroBLR

Addon Spoiler Pack by WF4123

Addon Decals v1.2 by Kenathorn

NIS Scenes Fix by D4emon712

New camaro performance by Hel

Font mod by Xanvier

New Exhaust Flame by XXNFSSOUNDKINGXX

Sound Packs Collection by TerraSphere_385

Free Run by clya900

Resource Pack by Viper4K

Pontiac GTO UNDERCOVER POLICE by Velocity X

POLICE SPEEDWAY PATROL by BodyKiT

Corvette Z06 Police by Aceofsquares3

AMARI SHOWROOM HD by NEXTModding

BMW M3 GTR [E46] from NFSMW 2012 by TRMeTaL01
Recompiled Vinyls by nlgzrgn
JAILSON DELICIA VINYL by PINGAOGAMEPLAYS
Custom garage & car lot by ASC & Joccers & P A I N

NFSUC Traffic Pack by AJM3899
New Finish Screens by powerof1000
Mazda RX-7 Extended Customization by Valen1991

Toyota supra new lights by deveinpak
Mitsubishi Lancer Evolution VIII MR by YochiThMaster333
Lamborghini Gallardo GT3-R '10 by CTRdesiGn'08 & MasterLife




Others:


Optional textures: Project Reginae by StrelitziaReg

(if you are going to play with these textures, rename the NEXTGENGRAPHICS folder to something else, and launch the game using Launcher.exe)
Virtually All rivals' NISes entries edited using the IceBreaker tool, made by r033, and some normal racing entries taken from elaymm4's beta content mod(I tried to recreate a similar version but failed miserably, sorry, they were horrible so decides to save work until the final version of the mod, I think it won't be a bother on the part of elaymm4)


Cars:

- (some converted by me to addon version)

Nissan GT-R T-Spec by M1992

Alfa Romeo 159Ti by Eclipse72rus

Nissan 240SX by Zvott96

Ferrari 360 Modena by Goodboygamer

Nissan 370Z (Z34) by YochiThMaster333

Ferrari 512TR by AJLethal

Porsche 918 Spyder Concept by ACLambor

Toyota Supra a90 by PedroBLR

Mercedes AMG GT by Eclipse72rus & Raverz12345

Cadillac ATS-V '16 by PedroBLR

BMW M3 CSL by PorscheDudeGT3

BMW M3 GTR by PorscheDudeGT3

BMW M3 E92 by Hel

BMW M3 GTS by NFS2019

BMW M3 E36 by Eclipse72Rus

Spyker C8 Aileron 2008 by Raverz12345 & ACLambor

Porsche Cayman Works Conversion by PorscheDudeGT3

Koenigsegg CCX by McLaren_3Dcm

Toyota Celica GT-Four by AJLethal

Dodge Challenger SRT8 by LM1992

1971 Dodge Challenger R/T by nlgzrgn

1969 Dodge Charger R/T by trackmaniamatt

Dodge Charger SRT-8 by nlgzrgn

Dodge Charger R/T Concept '99 by PedroBLR (some things on this car were modified by me)

Cadillac Cien by fardeen833 & McLaren_3Dcm

Honda Civic Si (EM1) by Keihin7

Honda Civic CX by RaTT

Mercedes Benz CLK GTR by Gamer boy

Mercedes Benz CLS63 AMG by Eclipse72Rus

Toyota Corolla GT-S by AJLethal

Chevrolet Corvette C7 Z06 by Metalwolf717

Lamborghini Diablo GTR by GadoDark

Lamborghini Diablo SV by McLaren_3Dcm

Mitsubishi Eclipse GSX by AJLethal (replaced by Eclipse GS-T by Luck_95)

Mitsubishi Eclipse GTS by SLZ Roadstar

Lotus Elise GT1 '97 by PedroBLR

Cadillac Escalade ESV by ACLambor

McLaren F1 by McLaren_3Dcm

McLaren F1 GT by 89OverdriveYT

Ferrari F40 from Classic Cars Pack by Zyphir

Ferrari F50 by RaTT

Ferrari 355 by BadHairDay

Ford SVT Focus by nlgzrgn

Ford GT 7 by Corvettez06 (some things on this car were modified by me)

Infiniti G35 by Goodboygamer

Mercedes Benz G65 AMG by Eclipse72Rus

Lexus GS350 F-Sport by Eclipse72Rus

Nissan Skyline R34 by LM1992

Hummer H1 Alpha by Goodboygamer

Hummer H2 by rybetasz

Lamborghini Huracan LP580-2 by LM1992

Subaru Impreza 22B STi by RaTT

Lexus IS F by AJLethal

Pagani Zonda F by F.R. a.k.a filipino_racer

Lancer Evolution X by Miles Dipperion

Lexus LFA by Aftrmrket Exotics

Noble M600 by Porsche 4ever

Chrysler ME-FourTwelve by MKIIITwinTurbo (some things on this car were modified by me)

Ford MUstang RTR 2015 by David_A

Mustang Shelby GT500 by nlgzrgn

Saleen SR Widebody Road Version by PedroBLR (some things on this car were modified by me)

Lincoln Navigator by rybetasz

Acura NSX (NA2) by AJ_Lethal

Polestar 1 by N4SRazer & RafliCOK

Audi R8 V10 by Zyphir

Honda S2000 by Zvott96

Saleen S7 by SLZ Roadstar (some things on this car were modified by me)

Onuk Sazan LM by UndercoverBoy833

Volkswagen Scirocco R by N4SRazer

Nissan Silvia S15 by NFS2019

Nissan Skyline R33 by AJLethal

Nissan Nismo GT-R LM by Eevee

Nissan Skyline R32 by AJLethal

GTA Spano by Corvettez06

Dodge SRT-4 ACR by AJLethal

Subaru BRZ by LM1992

Ferrari 575M Superamerica by Eevee

Land Cruiser Prado by Eclipse72rus

Audi TT RS by NFS2019

SSC Tuatara by Thunderdrift

Aston Martin V12 Vanquish by PedroBLR

Aston Martin V12 Vantage S by N4SRazer & Eclipse 72rus

Bugatti Veyron by McLaren_3Dcm

Viper GTS by Raverz12345 & Eclipse 72rus (some things on this car were modified by me)

Zonda HP Barchetta by UndercoverBoy833
Toyota supra new lights by deveinpak
Mitsubishi Lancer Evolution VIII MR by YochiThMaster333



Cop:

Various Police Car Pack Converted by Theathnever:
Saleen S7 Twin-Turbo Police by MNaeemi777
Nissan GTR R35 Police by Michael Werd
Nissan GTR R35 Police Undercover by MNaeemi777
Lamborghini Gallardo LP 550-2 Police by Michael Werd
Audi Le Mans Quattro Police Undercover by MNaeemi777
Armoured Truck Rhino S.W.A.T by Michael Werd
Dodge Charger SRT-8 Police by Goodboygamer
Dodge Charger SRT-8 Undercover by Goodboygamer
Hummer H1 Alpha Police Pursuit Vehicle by Goodboygamer
Barricade S281 by Goodboygamer
Cop Compact by RedFire



Traffic:
NFSUC Traffic Pack by AJM3899



Used tools:

Paint.NET

NFS VltEd

Binary
TexMod

TexModLoader

VP6 Starter Pack (to convert some movies)

Any video converter

Xvid (mini converter)

Reshade

Enb Series

NFS CarToolKit

EA VP6Encoder

foobar2000

NFS Sate Editor

RockportEd

VirtualDub 1.6.15

Icebreaker
Plans for the next update:
Adapt the mod according to the feedback
I'll probably remove the "bug-feature" from the random colors of cars in the garage, because I thought it was horrible myself, even though most people like it
Finish all cutscenes when unlocking the cars if a lot of people like it