Need for Speed World Downloads
Ugandan Knuckles for NFS World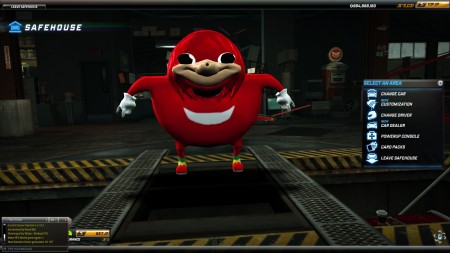 Added On December 21, 2022
File updated on: January 16, 2023
Ugandan Knuckles (UPDATED Jan.2023.)

Replaces Lotus Evora S.
Why not? This is the way. Detailed description with links in README.txt. While working on some other car(s), did it for fun.
Installation:
1. Backup GEOMETRY.BIN and TEXTURES.BIN from the game data CARS/EVORA directory.
2. Copy "CARS" directory structure from the archive to the game data directory, overrwrite all files.

Removal:
1. Copy backed up GEOMETRY.BIN and TEXTURES.BIN files back to the game data CARS/EVORA directory.

Software used:
NFS-CarToolkit - nfsu360
Blender - Blender Foundation, community
GIMP (GNU Image Manipulation Program) - GIMP Development Team

There is no need to ask me for a permission if you want to use or edit it in any way, permissions are granted (read LICENSE in src folder).
THANKS/CREDITS:
To tidiestflyer from deviantart.com for original model.
VRChat players who created and propped up the character.
People who reminded me of this meme.
nfsu360 for NFS-CarToolkit and VltED tools.
Blender and GIMP people/contributors/community for the software (including plugins contributors).

Version 1.1

uploaded January 16, 2023

Mushmula uploaded a new version. The new file is 554.65 KB.

UPDATE Jan.2023; FIXED:
- Drawing distance should be fixed now with less use of BASE.

Initial version

uploaded December 21, 2022

Mushmula uploaded initial version. The original file is 556.36 KB.