Need for Speed Underground 2 Downloads
1996 Porsche 911 Targa [Addon]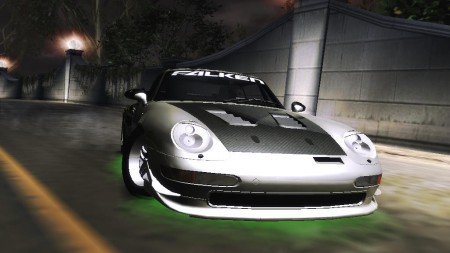 Views 2,123
Downloads 435
This car replaces None (Addon car)
Introduction
This is my new edit of
GM25's conversion
- 1996 Porsche 911 Targa. It's my first attempt at making an add-on vehicle.
Folder Name: 993TARGA
Tuning
1. Front Bumpers
2. Rear Bumpers
3. Side Skirts
4. Spoilers (in taillights)
5. Hoods
6. Headlights
7. Rims
8. Carbonfiber parts
9. Wide Bodykits
10. Paint (and Rim Paint)
11. Vinyls (recompiled from CELICA)
12. Decals (windows only)
13. Custom Gauges
14. Neon
15. Window Tint
16. N2O Purge
17. Hydraulics
Features
1. NFSUC Driver Model
2. Proper logos
3. Stock blue color
Known bugs
1. No exhaust flames
Changes from GM25's original release
1. Customization has been completely overhauled, that means that you can now customize many parts as you can (parts were taken from both RR3's 993 Carrera RS and NFSNL's 993 Carrera)
2. While it originally replaced Eclipse, it now became an add-on vehicle (I originally wanted to replace Celica, but then it's addon now)
3. Fixed some smoothing groups
4. New secondary logo, it now says "911 Targa" rather than simply "Targa"
5. Few parts now use correct shaders (Mufflers are good example since they now use ALUMINUM) rather than generic GRILL shader (I said generic because it is most common shader used by GM25)
6. Driver is now from NFS Undercover rather than Real Racing 3
7. Fixed disappearing lights bug, due to addition of customizable headlights (a most common bug if lights (and/or some other parts) use KIT00_HEADLIGHT_OFF and/or KIT00_BRAKELIGHT_OFF textures)
8. Added few more triangles to the vehicle (as the interior in this car felt like incomplete or something, along with grille on certain spoilers)
9. Removed some(?) duplicated triangles
10. Fixed licenseplate on second bodykit option (it was originally upside-down)
Credits
dotPDN - for making Paint.NET
nfsu360 - for making NFSU2 ModTools and NFS-CarToolkit 2.7
Oleg Melashenko - for making Zmodeler
GM25 - for converting this car in the first place
YochiThMaster333 (me :P) - for editing this car into add-on version
And sorry for bad english, because I'm russian.