Need for Speed Underground 2 Downloads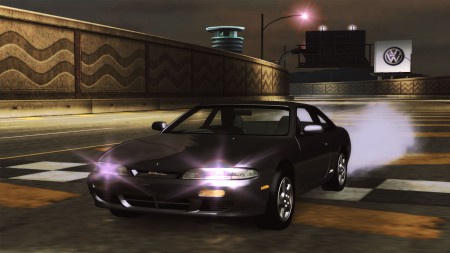 Added On December 24, 2017
Views 12,175
Downloads 1,471
This car replaces Nissan 240SX (240SX)
Car converted by Tails
___________________________________________________________________________________________________________________
Type of mod: Car
Model: Nissan Silvia K's
Replaces: 240SX
Known bugs: UV mapping is not 100% accurate.
Car can be customized with:
-front bumpers
-rear bumpers
-side skirts
-spoilers
-hoods
-rollcage (as roof scoops)
-taillights
-side mirrors
-CF trunk
-wide body kits
-exhausts
-rims
-paint
-vinyls (not 100% accurate)
-decals
-neons (underglow only)
-window tint
-nitrous purges
-trunk equipement (as trunk audio)
-some other bits
Credits:
Turn 10 - Model and textures (FM4, FH2)
THQ - Some parts (Juiced 2)
DMN - Ripping FM4, Juiced 2, FH2 and WOS models
raven54 - Ripping NFS: World parts
GameModels.ru - Providing the models
Slightly Mad Studios - Some parts (NFS: Shift, World of Speed)
EA Games - Some parts (NFS: PS, NFS: World)
SennaGhost - support, neon texture, licence plate model, tips with the rollcage
AJ_Lethal - support, tips on UV mapping
Automotive Gaming - support, taillight ideas
TFK640 - support, ideas
nfsu360 - Mod Tools
How to install the mod:
1. Back up all original files!
2. Replace original textures and geometry with those from package. Just copy them to CARS/240SX folder.
3. Download NFS-TexEd-0.9.1 and replace texture #288 in FRONTEND/FrontB.lzc with the one from package.
4. Install wheel position with NFS-CfgInstaller which you can find in Config folder.
5. Open the game and enjoy your Zenki!
Do not upload it on any other site without my permission. You can provide link, but not upload any part of this mod.
___________________________________________________________________________________________________________________