Need for Speed Underground 2 Downloads
2006 Mitsubishi Lancer Evolution IX MR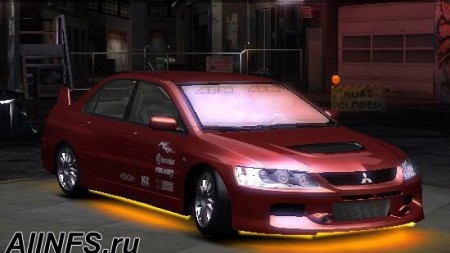 Version Underground 2
Brand Mitsubishi
This car replaces Mitsubishi Lancer Evolution VIII (LANCEREVO8)
Description: Mitsubishi Lancer Evolution 9 MR car, converted from the NFS Carbon game. Replaces LANCEREVO8.
Tuning:
-Bampera (front and rear)
-Porogi
-Spoylera
-Vozduhozaborniki
-Kapoty
-Glushiteli
-Fary (front and rear)
-Zerkala
ROM
-Perfomance
-Kuzova
carboxylic details
-Spinnery
-Double hoods
-Dekoli Window
-Dekoli on the door
-Painting
-Appliances
-Neon
-Neon engine
-Toning
-Light from headlights
-Blow N2O
-Hydraulics
How to install:1-Extract the LANCEREVO8 folder into the CARS folder of the game.
2-Tex-Ed program, open the FrontB.lzc file and replace the file number 408 with the file SECONDARY_LOGO_LANCEREVO9.dds and save.
3-Run the game.