Need for Speed Pro Street Downloads
Yochi's NFSPS Vinyls Pack 1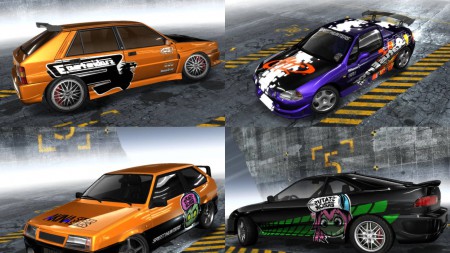 Added On October 19, 2021
This mod was made by YochiThMaster333 aka Eevee (me).
Included vinyls and decals:
Team: 3 Status Error, 3 Eastsiderz, Akina SpeedStars (Anime and Manga), Fujiwara Tofu Store, Tselli
Graphic: 2 Fast 2 Furious Skyline, 6 NFS Heat Studio vinyls
Two-Tone: 2 Pattern Stripe vinyls from NFS Heat Studio
Aftermarket Brands: Modern Image, Speedhunters, fifteen52, Rocket Bunny, Pandem, C-West, Ings
How to install:
Run Binary v2.8.0 as an administrator, click on red (User Mode) icon, then pick Vinyls.end and look for NFSPS game directory (ignore the errors if there are any)
Run the game and check vinyls. If the vinyl appears visible properly, then you did all right.
FAQ:
Q: What is game directory?
A: That's the folder where your NFSPS installed
Uploaded on:
nfsaddons.com (this site)
nfsmods.xyz
Please don't reupload to these sites.
Thanks to:
GM25 for NFS Heat Studio vinyls rip