Need for Speed Most Wanted Downloads
BMW M3 E36 (NFS No Limits : Darius)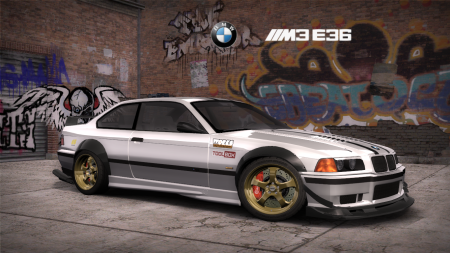 Added On December 1, 2022
Vinyl is remade from NFS No Limits by DsanDesign
contains :
Darius vinyl/s (1024px and 512px) (paintable and preset colour)


Car author : Vee-Tec
Link for the car : Need For Speed Most Wanted: Downloads/Addons/Mods - Cars - BMW M3 (E36) | NFSAddons


Vinyl installation:

Extract vinyl package wherever you want
Run NFSTexEd (any versions) and open Vinyls.bin of targeted car
Replace whatever vinyls you want (both main file and the mask), lemme give you an example.
a. For preset colour vinyl :
- CONTEST01
- CONTEST01_MASK
b. For paintable vinyl :
- BODY04
- BODY04_MASK

Save, open your game and enjoy it.


Tools used :

Photoshop CS6
Blender/Zmodeler
NFSTexEd