Need for Speed Most Wanted Downloads
SAD-ist Vinyl for Eevee's Skyline GT-R Nismo Z-Tune (R34)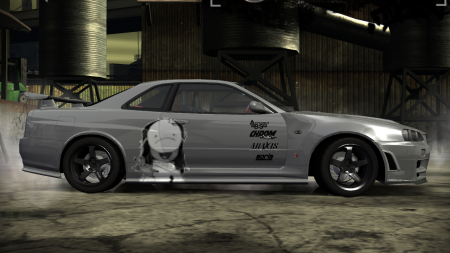 SAD-ist vinyl for Eevee's Nissan Skyline GT-R Z-Tune (R34)
there are 2 different versions (1 for ModLoader and 1 for Add-on)
Note: You need to make back-ups before performing vinyl replacement.
Steps:
1. Extract the files.
2. Make a folder for this vinyl and open NFS-TexEd.
3. Choose whether CARS\SKYLINEZT\VINYLS.BIN or ADDONS\CARS_REPLACE\PUNTO\VINYLS.BIN (if you had installed one of those).
4. Replace the vinyl (SKYLINEZT_UNIQUE01 and SKYLINEZT_UNIQUE01_MASK (for add-on), PUNTO_UNIQUE01 and PUNTO_UNIQUE01_MASK (for ModLoader)).
5. Save.
For those who doesn't install the mod yet:
NFSAddons:
https://www.nfsaddons.com/downloads/nfsmw/cars/nissan/4776/nissan-2005-nissan-skyline-gt-r-r34-nismo-z-tune.html
NFSMods:
https://nfsmods.xyz/mod/2578
Credits:
Spencer Kimball - GIMP 2.10.28
Sonic49PH (me) - vinyl
YochiThMaster333 aka Eevee - Nissan Skyline GT-R Nismo Z-Tune (R34)
SAD-ist - YouTube profile picture
Permissions granted:
Use for such mods (like Pepega Mod)
P.S. Decals aren't included in this vinyl.
For 512px vinyls only.