Need for Speed Most Wanted Downloads
Better_CameraAngles (UPDATED)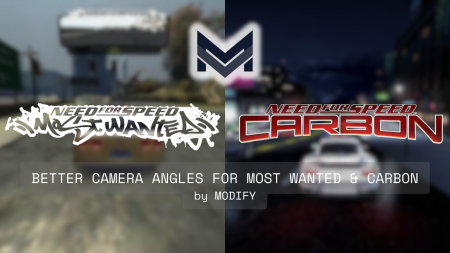 Added On October 15, 2023
Views 2,247
Downloads 292
File updated on: November 23, 2023
--- MODIFY@2023 ---

This version of the camera mod created by MODIFY is not an update on camera adjustment and angles and stuff. This is just an update on the organising of the script files. This update makes it easier for you to install all the improved camera at once (which is optional).

That is why there are checkboxes which you can select from. Please NOTE that there are big mods in progress and that small mods like this will be released for the time being.

More IMPORTANTLY, I would like to thank you for at least downloading the MODIFY mods even though you don't have to use them, but at least support our small team, so that we can improve on our work in the future.

THANK YOU!!

INSTRUCTIONS:

1. After the zip file has been downloaded, extract the modded camera files into a suitable folder where it can be easily navigated.
2. Use NFS-VltEd and open the Need For Speed Most Wanted Game folder.
3. Import the first nfsms file script you see "ImprovedCameraAngles.nfsms" and check any or all of the checkboxes that are listed in the popup window.
4. Once that is done, then HIT SAVE.
5. Run the game, and don't forget to give me your feedback on this.

ENJOY that improved camera feeling.

Oh, I almost forgot, please also tell me what other mods we should create in the future since it's only 3 of us on the team. With your feedback, we can improve on our work and make you guys love our mods even more!!

MUCH LOVE TO YOU ALL AND ENJOY THE FESTIVE SEASON!!

Version 1.1

uploaded November 23, 2023

MODIFY uploaded a new version. The new file is 2.4 KB.

Structural Changes:
- All the nfsms files compiled to be installed at once by ticking the checkboxes.
- Which makes it easier for the user to install first hand.

No other changes were made.

Initial version

uploaded October 15, 2023

MODIFY uploaded initial version. The original file is 2.4 KB.