Need for Speed Most Wanted Downloads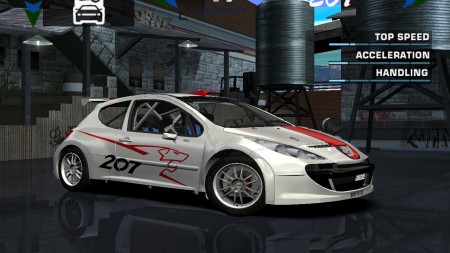 Added On January 15, 2020
Version Most Wanted
File Size 913 B
My tune for Peugeot 207 S1600.
Car is made by Eclipse72Rus. You can download it from;
- NFSAddons; https://www.nfsaddons.com/downloads/nfsmw/cars/peugeot/3476/peugeot-207.html
- nfs.com.ru. https://nfs.com.ru/downloads.php?view=1313
Things Changed:

- Car sound [Renault Clio ---> Ferrari 360 Sound] [It doesn't sound very realistic,but i took the sound from DiRT Rally,since it has a S1600 207 version in it and it sounds similar to Ferrari 360,kinda.]
- Includes AWD and FWD Version [AWD ---> S2000 ; FWD ---> S1600]
- Added brake nodes;
That's pretty much it.
You're not allowed to upload this mod to another site without my permission!!!