Need for Speed Most Wanted Downloads
Subaru Impreza WRX STI '06 [BINARY]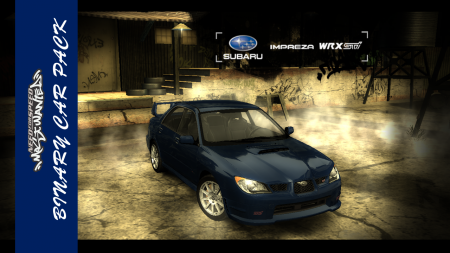 Added On November 19, 2020
Views 2,282
Downloads 305
This car replaces None (Addon car)
This is my first addon car, using BINARY method, of course, so that it can be compatible with the new version of the NFSUnlimiter. this car was part of the mini pack # 3: if you want the pack, you can get it here: https://www.nfsaddons.com/downloads/nfsmw/tools/5142/mini-car-pack-3-bonus.html
Installation:
Put the folder IMPREZAWRXSTI in your game
Now install the script via VTL
Now, using Binary, install the script.
There you go!!!
NOTICE: I present to you the BINARY CAR PACK, which is a collection package of cars, both new cars and cars, that are available in mini-packs or individual cars that have ED installation format, which means, there will be updates for this pack. (This Subaru is part of the BINARY PACK, so stay tuned for the first cars!!).
NOTE: the M6 is cancelled, the purpose was only to be familiar with BINARY.
Coming in the BINARY PACK:
Ford F100
Mercedes 190 E 2.5-16
Porsche Boxster Spyder (2010).
Suzuki SX4 Sportback
Honda Civic CX
RUF CTR3 and more....