Need for Speed Most Wanted Downloads
Porsche 911 Carrera (993) (addon)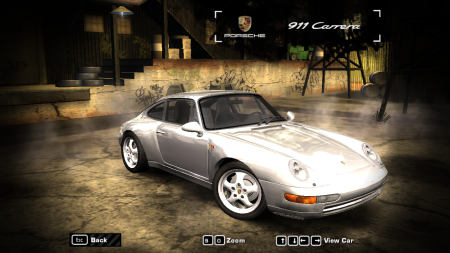 Views 2,006
Downloads 334
This car replaces None (Addon car)
Need for Speed: Most Wanted
Porsche 911 Carrera
Made BY JG Abagat
Converted from Eevee
Replacement: None
Car folder name: (XNAME) 993CARRERA
modloader to replace cts
https://www.nfsaddons.com/downloads/nfsmw/cars/porsche/2536/1993-porsche-911-carrera-993.html
Tuning:
- Visual
- Performance
- Body kits
- Various decorative elements in the hoods (+ roof scoops)
-Wheels
- Styling
Features:
- Working stop lights
- Driver from NFS UC
Installation:
0a. Download NFSMW-Unlimiter by nlgxzef: https://nfsmods.xyz/mod/688
0b. Download Binary: https://nfsmods.xyz/mod/1638
1a. Install car data required using Binary v2.5.5 or later.
1b. Run Binary an admin.
1c. Click User Mode.
1d. Find the 993CARRERA_binary.end and double-click it.
1e. Wait for the window to appear.
1f. When the prompt said save the game, click Yes and No if the prompt tell you to run the game.
1g. Quit Binary.
1h. Manually extract 993CARRERA to CARS folder
2a. Install required vault data using NFS-VltEd v4.5 or later.
2b. Download the latest version of VltEd: https://nfs-tools.blogspot.com/p/downloads.html
2c. Run VltEd as admin.
2d. Select your NFS MW game directory.
2e. Select the 993CARRERA.nfsms from the dialog and hit OK.
2f. The dialog will appear. Hit "Install" from the dialog.
2g. Hit "Save" or Crtl + S and quit VltEd.
3. Run speed.exe as admin and create a new save game.
4. Enjoy your new ride!
Known issues/bugs:
none of these
-Anyone at the momment
Tools used:
NFS CarToolKit by nfsu360
NFS TexEd by nfsu360
NFS VltEd by nfsu360
Binary by MaxHwoy
NFSMW Unlimiter by nlgxzef
Credit to:
Eevee for permitting me
MaxHwoy, nlgxzef, and nfsu360