Need for Speed Most Wanted Downloads
2019 Porsche 911 GT3RS [BETA]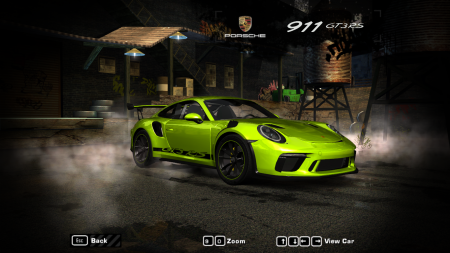 Views 6,912
Downloads 1,342
This car replaces Porsche 911 Turbo S (911TURBO)
=====================================================================
2019 Porsche 911 GT3RS - Need for Speed Most Wanted 2005 Conversion [BETA]
Converted by Rauny_noobexX

Meshes and Textures from Forza Horizon 4
Attributes by LRF Modding
Modloader version replacing Porsche 911 Turbo S
=====================================================================
Note** You must replace all files to avoid bigger problems. In case you are done with my conversion, you can restore your original files by dragging and dropping the contents from the folder 'Backup' to the root folder of your nfsmw.
Features:
Brakelight Textures
Criterion's Driver Model (Need for Speed Most Wanted 2012)
Damage Scratches
HD Logos
Performance Attributes
Lod Parts
========

Bugs:
Driver is positioned wrong.
========


Credits Goes to:
ArturoPlayerOne (Modding)
NFSU360 (Tools)

Arushan (ModLoader)
Oleg (Zmodeler)
Adobe (Photoshop)
Turn10 Studios (Meshes & Textures)
Criterion Games (Meshes & Textures)
LRF Modding (Performance Attributes)
and Especially to:
Blender Foundation (Blender Software)