Need for Speed Most Wanted Downloads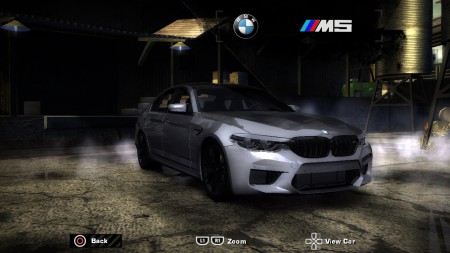 Views 2,726
Downloads 656
This car replaces None (Addon car)
Thank you soo much, all guests & users, for reaching 20k downloads in total for each of my recent addons & packs, and it's my 40th release & my 1st Addon car in 2021 on NFSAddons! It replaces nothing, Xname of the Addon car is BMWM5F90
Get the 2018 BMW M5 from ModLoader if you want to replace CTS with it
BMW M5 (F90) converted from Forza Horizon 4
Features:
- Stock Paintable body with new material
- LOD Parts
- Working brakelight texture
- HD Secondary Logo
- Performance Attributes
- NFSMW 2012 Driver
Others:
- Added an uninstallation folder that has an nfsms file included for people to uninstall & install any addon cars they have while the endscript file was in the setup (this will also remove the files for endscript. Extract the files again manually in CARS Folder)
- Added an ini file in Mod/scripts/UnlimiterData Folder to have customization visibility whatever the mods have or don't have parts & visuals, only in Unlimiter v3
- Brown was set as stock color in ED Version while Blue was set as Stock Color in Binary Version
- Good handling & acceleration but with low top speed
It can be customized with:
- Rims
- Performance upgrades
- Visuals
Rest not mentioned are NOT Customizable
Installation:
It's in the Installation txt for ED & Binary from Archive

Known bugs/issues: The gauge needle when you rev it up in the start, It can sometimes can't move when you try to rev it. The only thing you can do at the start is: Rev it up early before the issue happens.
Credits:
- Converted by Rauny_noobexX. He granted me in pm to add & release his car mods in MW BUT to credit him & provide the link for the ModLoader car
- Performance by LRF Modding
- NFS-VltEd, NFS-CarToolkit & NFS-TexEd (v1.7) by nfsu360
- NFS MW Unlimiter & Ed - The Car Dealer! by nlgzrgn
- Ant Renamer by antp.be
- Binary v2.5.5 by MaxHwoy