Need for Speed Most Wanted Downloads
2005 Eclipse Spyder GTS (2 Fast 2 Furious) [ADDON]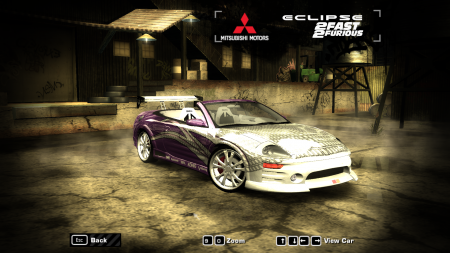 Views 2,678
Downloads 561
This car replaces None (Addon car)
2005 Mitsubishi Eclipse Spyder GTS (2 Fast 2 Furious)
--------------------------------------------------------------
Yep, one of the worst cars to have existed in the fast and furious movies, has now arrived at Rockport's car dealership! It is an addon car.
This car is the second of the two converts I am doing from the fast and furious pack.
Link for the modloader: https://www.nfscars.net/need-for-speed-most-wanted/7/files/view/15346/
Modloader version replaces ECLIPSEGT
Features:
-Highly-detailed model (Interior and exterior)
-Damage model
Customizations:
-Rims
-Spoilers
-Window Tint
-Windshield Vinyls
Bugs and errors: You may get errors during installation, but you can safely ignore them as they do not affect the car in any manner. Other than that, if you do have problems, feel free to contact me in the Discord server or comment here.
------------------------------------------------------------------------
Credits:
- Eclipse 72rus for making the modloader version;
- N-Speak for sources from GTA IV mod;
-MaxHwoy for Binary;
-nfsu360 for VltEd;
-nlgzrgn for Ed TCD;
-MWinside for ReCompiler