Need for Speed Most Wanted Downloads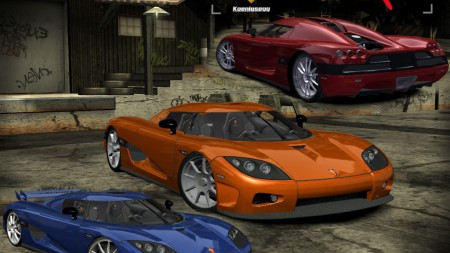 Views 61,365
Downloads 14,597
This car replaces Porsche 911 GT2 (911GT2)
Koenigsegg CCX (Carbon Conversion)
Originally made by EA from NFS Carbon.
Converted to NFSMW by Salim.
Converter's E-mail: nfs-saliM@hotmail.fr
(This is a much better version of CCX than Mclaren_3Dcm's version.)
Features:
-Replaces 911 GT2.
-Tuned Performance(Semi-Realistic).
-Super conversion from NFS Carbon.
-100% Accurate Mesh and Detailed Textures.
-Customizable Rims, Spoilers, Window Tint & More.
-Paintable Rims & Body.
(Use Shop Spezial 1.0 to customize this car in Career Mode, thanks to Arushan)
Bugs:
-None at the moment. Inform me or Salim if possible by PM on NFSCars.net
(Dark Ritual OR S.L.)
Credits
-Arushan (Cracking the file + Releasing The Tools)
-EA (Mesh for the CCX from Carbon and creating the 2 awesome NFS Games)
-Salim (Converting the car and Remapping the whole thing.)
Voila! EnJoY!