Need for Speed Most Wanted Downloads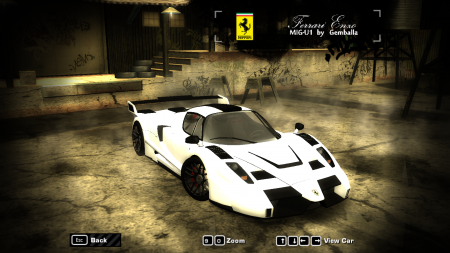 Views 2,547
Downloads 584
This car replaces None (Addon car)
Ferrari Enzo MiG-U1 by Gemballa
---------------------------------------------------------------------------
One of the rarest Ferraris in the world, having only 5 units made, it's made by the German tuning company Gemballa, which specializes in tuning and modifying Porsche cars. Well, now you have the chance to get this beast at your Rockport Car dealership as well.
This is an addon car. For modloader version: https://www.nfscars.net/need-for-speed-most-wanted/7/files/view/10457/
Modloader version replaces MURCIELAGO
Features:
-High quality model
-Looks like a MiG Fighter Jet
Customizations:

-Paint
-Rims
-Window Tint
Bugs and errors: If you do have any, feel free to comment below or send me a message on the Discord server.
--------------------------------------------------------------------------
Credits:
-MaxHwoy for Binary

-nfsu360 for VltEd

-nlgzrgn for Ed TCD
-MWinside for ReCompiler

-Jeevanlee - Ferrari Gemballa Mod