Need for Speed Most Wanted Downloads
Chrysler ME Four-Twelve Concept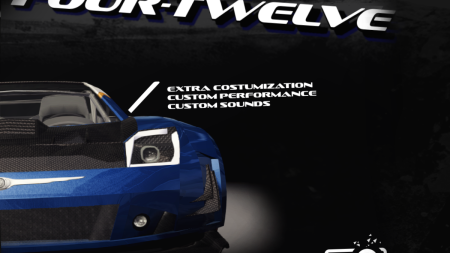 Added On February 14, 2023
Views 2,091
Downloads 203
File updated on: March 15, 2023
This car replaces None (Addon car)
Imported from: Test Drive Unlimited
Replace: None
Cost: 450.000
Unlocked at: After beating Ronnie
WARNING:
For the mod to work properly, you need the Viper4k Resource Pack mod, if you don't have it, probably some parts will be invisible, like the seats (attach)
Features:
Extra Costumization
Custom Sounds, Stock and fully tunable
Custom Performance
Customization:
// Base:
/ Bodykits (Stock +5 Custom)
/ Spoilers
/ Rims
/ Interior (Stock +2 Custom)
/ Hoods (Stock +4 Custom, with Carbonfiber variant)
/ Roof Scoops
/ Roof (Stock +2 Custom)
/ Side Mirrors (Stock +6 Custom)
/ Headlights (Stock +14 Custom)
/ Taillights (Stock +11 Custom)
/ Paint
/ Vinyls (512/1024px vinyls)
/ Window tint
/ License Plate
/ Tires
/ Brakes
// Attachments
/ 2 Roll Cages (Slot 1)
/ 10 Seats (Slot 2)
/ 10 Seats (Slot 3)
/ 4 Air Inlet (Slot 4)
Details about:
This mod is from a project/modpack I made called Ultimate Edition, in which the same car is based on the 2009 conversion made by MKIIITwinTurbo, such a conversion from Test Drive Unlimited, I used its base model to do all the customizations by hand, which originally has none, new textures and new heavily modified performance from the Ultimate Edition project/modpack version, so don't expect realistic performance.
Permissions Granted:
1. To add the mod in modpacks like redux or any other
2. To convert the mod to other games, like other NFS like carbon, world, pro street, whatever
-- just give me the credits, or I'll send crazy Most Wanted BMW M3 GTR fans to your house, just joke... or not --
Intallation:
1. Open your Binary & select "User Mode"
2. Choose "Part 1.end"
3. Select your NFS MW directory
4. Save, but don't run your game yet
5. Open your Vlt-Ed and then import the "Part 2.nfsms"
6. Press install then save it
7. Create new savegame and enjoy.
Credits:
FISCAL aka Opex Rah (my self)
Blender
Team that created Blender, these go to heaven.
nfsu360 - Cartoolkit, Vlted, etc.
MaxHwoy - Binary
AJ_Lethal - Binary & VLT Installers template.
MKIIITwinTurbo - Base model conversion.
Version 2.2

uploaded March 15, 2023

Opex Rah uploaded a new version. The new file is 34.79 MB.

Added more attachment customizations, new body kit, new side mirrors and new shiftpatterns

Version 1.3

uploaded February 16, 2023

Opex Rah uploaded a new version. The new file is 34.22 MB.

improved some things of the 3d model, bodykit positions changed and bodykit number 4 (which is now number 2) has been improved

Version 1.2

uploaded February 15, 2023

Opex Rah uploaded a new version. The new file is 34.09 MB.

Added +2 Bodykits, 2 Interior options, 10 Seats options (Attachments), +9 Headlights, +3 Taillights, and improved visual parts of some bodykits (Decals)
Fixed some 3d model things

Version 1.1

uploaded February 14, 2023

Opex Rah uploaded a new version. The new file is 30.11 MB.

Fixed taillights
Some improved materials
Revised and improved script, both vlted and binary, now everything works properly
Thanks to CH I P E R and KnightHunter for testing

Initial version

uploaded February 14, 2023

Opex Rah aka Fiscal uploaded initial version. The original file is 30.11 MB.