Need for Speed Most Wanted Downloads
2010 BMW Z4 sDrive30i (E89) (ADDON)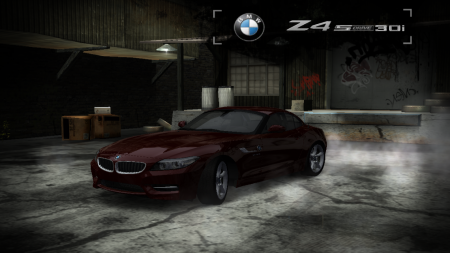 Added On December 22, 2020
Version Most Wanted
Brand BMW
This car replaces None (Addon car)
This is my 26th mod uploaded here. This car replaces nothing.
If you want this car mod (modloader version) to replace Porsche Cayman S, then you can get the mod here: BMW Z4 sDrive30i.
Join my Discord server for discussions relating this : https://discord.gg/tBKjnhrFQc

Customization and tuning:
- Performance
- Visuals
- Bodykits(5)
- Rims
- Roof scoops
- Spoilers
- Window decals

Features:
- New performance data
- LOD parts
- New spoiler base
- HD secondary logo
- Working brakelight texture
- NFS UC driver
- 5 special colors(contest vinyls)

NEW FEATURES:
-Re-heightened the ride
-Reworked engine audio
Things you will need for installing the mod:
-NFSMW Unlimiter by nlgzrgn : https://nfsmods.xyz/mod/688
*NOTE* I have not installed the latest version of the unlimiter and so I do not know how it will work on the latest version!
-Ed-The Car Dealer by nlgzrgn: https://nfsmods.xyz/mod/874
-NFS Vlted 4.6 by nfsu360: https://nfs-tools.blogspot.com/2019/02/nfs-vlted-v46-released.html
-Instructions in the README file
Bugs and issues:
-No VINYLS right now. Because it has problems while converting and I will fix it soon.
-If you have others, just lemme know in the comments.
Others:
-Added an uninstallation script for those who feel like to delete my addon.
Credits:
-Eclipse 72rus aka Corvettez06 for the original car mod and granting me permission(Cishy got the permission for me since I was unable to contact him) to release his mod as an addon
-Myself(N4SRazer aka NFSMWFAN) for converting into addon
-nfsu360 for NFS VltEd 4.6, TexEd 1.7
-MWInside for MW ReCompiler
-nlgzrgn for his NFSMW Unlimiter and Ed-The Car Dealer