Need for Speed Most Wanted Downloads
2013 Audi RS7 Sportback [Modloader | Binary]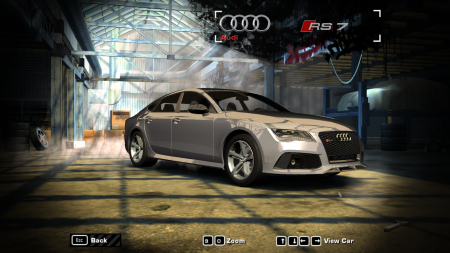 Added On September 15, 2021
Views 13,954
Downloads 2,002
File updated on: September 24, 2021
This car replaces Audi A3 3.2 quattro (A3)
=====================================================================
2013 Audi RS7 Sportback - Need for Speed Most Wanted 2005 Conversion
Converted by Rauny_noobexX
Meshes and Textures from Forza Horizon 4
Attributes by LRF Modding
Modloader version replacing Audi A3
Xname: RS7SB13
Frontend Name: rs7_sb
=====================================================================
Features:
- Realistic Brakelight Textures
- Realistic Headlight Textures
- Criterion's Driver Model (Need for Speed Most Wanted 2012)
- Performance Attributes


Bodykits:
Stock Bodykit - No visual modifications
Bodykit #1 - Widebody Kit
Bodykit #2 - Widebody Kit with custom color
========
Credits Goes to:
ArturoPlayerOne (Modding)
Raverz (Addon Version)
NFSU360 (Various Tools)
Arushan (ModLoader)
Oleg (Zmodeler)
Adobe (Photoshop)
Turn10 Studios (Meshes & Textures)
Criterion Games (Meshes & Textures)
LRF Modding (Performance Attributes)
Neon (A few ideas)
Eclipse 72rus (HD Audi Logo)
and Especially to:
Blender Foundation (Blender Software)
============
Version 1.1

uploaded September 24, 2021

LRF Modding uploaded a new version. The new file is 3.9 MB.

BINARY Addon Added!
Xname: RS7SB13
Frontend Name: rs7_sb

Initial version

uploaded September 15, 2021

Rauny_noobexX uploaded initial version. The original file is 2.94 MB.