Need for Speed Most Wanted Downloads
Mini Car Pack #4 BONUS CAR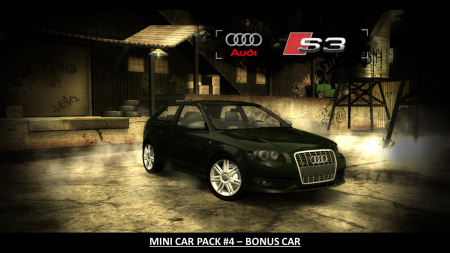 Added On November 4, 2020
Views 2,749
Downloads 367
This car replaces None (Addon car)
This is the BONUS CAR of the mini car pack #4.
Installation:
Put the folder S3 in your game
Put all the files from ED FOLDER where it's belong
Now install the script.
Issues: Gadgets are buggy.
There you go!!! (This car is part of the ADDON CAR PACK #1, such as the Honda Civic CX, the Sedan 1200, The Chevy Corvette Stingray, the ML63 AMG, and the mini packs #1, #2 #3, and #4, the pack will be available in DECEMBER!!). So far we have 24 cars expect more in the future or more mini-packs!!!.

Remember Next Week the Mini Pack HB edition and the Supercar Edition.
About the Mini Pack #6: it WON'T be part of the ADDON CAR PACK #1. Here's the car list:
Alfa Romeo 159 Ti
DeLorean DMC-12
Mercedes-Benz G65 AMG
Porsche Boxster Spyder (2010)
Jeep Wrangler Rubicon
Peugeot 308 GTi
BONUS: Nissan Skyline GT-R R34 Nur
What's next:
These cars will be a solo one.
BMW M6 (F13)
Shelby GT500 (2010)
Ford F100
Audi A1 quattro
Porsche 911 GT3RS (2010)