Need for Speed Most Wanted Downloads
2006 Alfa Romeo Brera [Updated Version]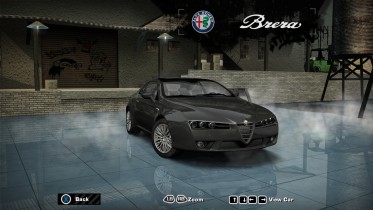 Author:
Eclipse72Rus
Added on: February 29, 2020
Viewed: 699 times
Downloaded: 126 times
Favorited: 0 times
Share this car:Click to copy URL
Hey there!
Here is last update for one of my first mods. It was a good mod since 2008, that was redo 2 times from zero xD
Version 4.0 is based on 3.1 from 2016 with a lot of fixes and impovements. Hope you like it!
2006 Alfa Romeo Brera

This car is converted from NFS Carbon and it replaces Fiat Punto.

Can be customized with:

ALL(except roof scoops)

Features:

- New perfomance data
- Working brakelight texture
- NFS UC Driver model
- LOD parts
- Scratches
- HD logos

INSTALLATION

1.Unpack all files.
2.Copy ADDONS to NFS Most Wanted directory
3.Run the game with modloader

CREDITS

EA/BB - mesh & textures
nfsu360 - Toolkit
Oleg Melashenko - for ZModeler 1.0.7.& 2.2.5
Eclipse 72rus aka CorvetteZ06 - converting to NFS MW


29.02.2020
version 4.0
- New tiling carbonfiber and grill textures
- Shader improvements
- Added headlight dummies
- Added damages (scratches)
- Added new and fixed existing decals
- New HD secondary logo
- Updated car physics
- Some UV fixes

Damage
Convertible
Dashboard
Class
Vidwall
Serial #
Windows
Licence Plate
Top Speed
0 mph
0 kmh
Polycount
0