Need for Speed High Stakes Downloads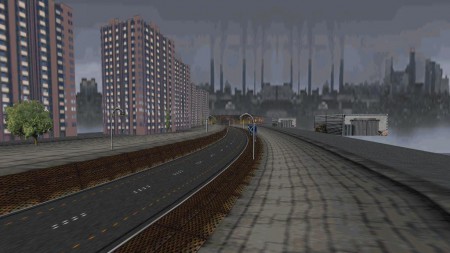 An update to Transtropolis by nfsfan83.
Track converted by: Ger_JimD
Original auther: nfsfan83
Edited by: Zalcus
***Permission has been granted to edit this track***
======================================
Fixes/adjustments:
-Fixed AI driving line and widened the virtual road. Bots will no longer drive in a "Congo line" and will be more skillful overall.
-Removed many sticky walls.
-Collision properties set. You can knock those flashing signs down, and collide with the streetlamps (be careful!).
-Updated Track ini files. There is an improved night atmosphere and it rains when weather is turned on.
-Added light glows (turn on weather, night driving or both to see the streetlamps illuminated).
-The track mesh has been edited to fit need for sped high stakes physics and to prevent AI from crashing frequently.
-New replay angles (Tr.cam).
BUGS/GLITCHES: There are still a few problems on this track, that I can't fix ATM, but none of them are gamebreaking. See the updated readme.txt for further details on this.
====================================
INSTALLATION:
This track works with Hometown. Make a backup of the Hometown folder in "Need for Speed High Stakes/Data/Tracks" and move all the files from this folder into this directory. If you use the NFS Mixer, simply import this track as a "new track". The track also works with Durham Road (UK).
====================================
Programs used:
-T3ED_Dev4.2.0.258 by JimDiabolo
-A modified version of T3ED by NRI 2003 (This has an easier function to widen the virtual road width)
-FSHTOOL by Denis Auroux (for creating night textures)
-FRD-TOOL v2.2 by GAMMARAY (for adding light glows)
-Notepad for editing the light glows in the .ini files
Have fun with this track and FEEL THE NEED FOR SPEED!