Need for Speed High Stakes Downloads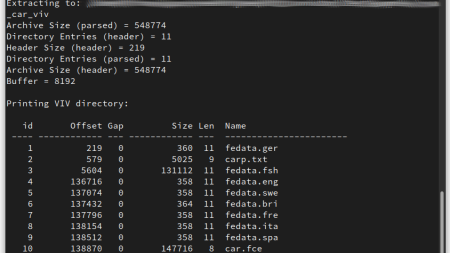 Added On February 25, 2023
unvivtool is a modern VIV decoder/encoder
Purported VIV/BIG archives sometimes contain faulty or manipulated header information. unvivtool is designed to validate and recover data as much as possible.
Compatibility: Many Electronic Arts games, including most Need For Speed versions
Formats: The formats are called BIGF, BIGH, and BIG4 (equals first 4 bytes). Typical file extensions are .VIV and .BIG.
Features:
decode and encode archive
validate archive
decode entire archive at once
retrieve a single file from archive (by index or filename)
list archive contents without writing to disk (dry run)
encode files in set order
fully support UTF8-filenames in archive
fully support non-printable filenames in archive (represent as Base16)
decode/encode with set fixed directory entry length
Also available as Python extension module from https://github.com/bfut/unvivtool