Need for Speed High Stakes Downloads
Toyota Supra - Vidwalls, Slideshows, and 360 Interior Showcase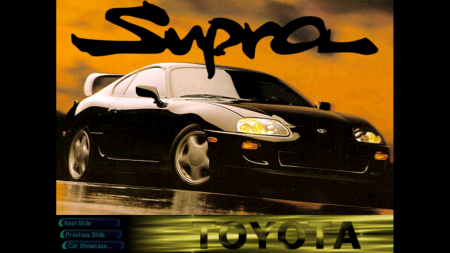 File updated on: August 31, 2021
This pack contains vidwalls, showcases, and a 360 interior showcase for the Toyota Supra.
(Note: this mod is intended to be used with a car mod already installed in your game--i.e., this pack does not contain a car.viv.)

Features:
- Car selection vidwalls
- Showcase slides
- 360 interior showcase
Full credits and instructions are included in the readme.
Description:
Update: Redid the 360 interior showcase using Autostitch, higher resolution screenshots, and my new methodology.

Original: This was my first attempt at comprehensive vidwalls and showcases. I wanted to make vidwalls for a Supra I enjoy, so I did, but then I wanted to also try making everything else to make it as close to an EA-style car as possible. I found a 360 video of the car's interior (not the best cause there's people in it, but it's the only one I found) and used it to piece together a 360 presentation as seamlessly as I could. Lots of work and hours, and not perfect, but it's something I've never seen anyone else do before. Hope you enjoy.
Version 1.1

uploaded August 31, 2021

Driven uploaded a new version. The new file is 1.96 MB.

- New interior showcase file
- Updated Readme
- Higher res screenshots

Initial version

uploaded August 27, 2021

Driven uploaded initial version. The original file is 1.96 MB.