Need for Speed Hot Pursuit Downloads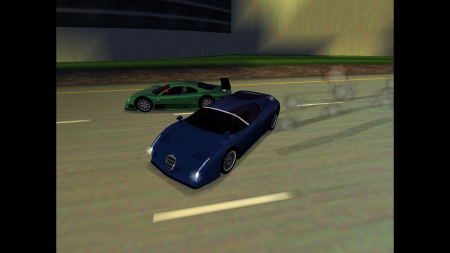 Higher quality model as EA replacement plus a few minor fixes.
Stats:
512x texture for high quality texture mod on VEG patch
256x texture can be used instead by renaming CARGAR.TGA
2956 total combined polygons for compatibility with unpatched game:
1592 polygons for high quality model (LOD0)
882 polygons for medium quality model (LOD1)
470 polygons for low quality model (LOD2)
12 polygons for tiny model (collision)
New sound engine, sampled from youtube*
Removed a few annoying outlines in dashboard

Major revision to performance, it is now AWD as it should, while keeping some reliability on cornering
Completely revamped the colour list, now featuring real Alfa Romeo shades (credits to NFS1McLaren and Schnoobler)
Edited showcase to display the red Alfa Romeo logo on the spoiler (MASSIVE credits to Schnoobler), and have a new loading slide in PSX style
Notes:
So, this is it. All PC cars are completely revamped. It has been a trip. Also has been a hell, especially when a car has different variations acording to its lifetime, like this one. The older, original model had a much stepper and shallow front end, which happened to be the most pictures on the internet that I could find for reference. Also it had two set of rims, which are also present in the game, the alt set even making it into the loading slide. It triggered me real bad so that's why I replaced the image altogether. Plus, it's a bad angle if you ask me.
Then there is another problem: the dashboard. Inside the VIV there is a file called FAILDASH.QFS. That file is ready to have the gear indicator, on the way I assume it works. I don't know if it was ever shown in action, I couldn't find anything. BUT, there is a really nasty bug on the game's engine that prevents the tiles to show on their correct place, making all of them stack in the same place. That's valid for the 355, but not for this car. If the bug is fixed 200 years from now, the new dashboard can be selected.
Sound, well that's the only part of this that went actually smooth. Surprisingly got a perfect sample at the first try from an Alfa GTV which also features the 3 litre Busso engine. Then I added the turbo whistle cos the Scighera has two of them and I want them to be noticed. I couldn't find turbo whistle samples online so I whistled myself. Voice Acting as a car is a thing now.
Model wise, the original EA model is actually VERY good in terms of general proportions, the biggest offenders being the standard HUGE wheels that all cars have, and it is a little too high clearance because of that. The other handicap to this car is the game engine itself one more time, which is in the limbo between NFS2 and NFS4 where it has no moving spoiler capabilities. In any of the two other games, the feature could be used. In real life, the big rear spoiler houses a small(ish) flap that acts as air brake.