Need for Speed Carbon Downloads
The Sagas - Part. 1 (DLC 1)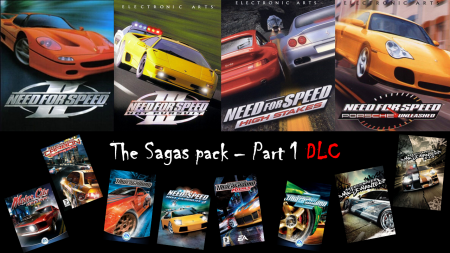 This is a "DLC" for the Part. 1, call it whatever you want it; this "DLC" contains 14 cars, SOME of this cars were discarded in NFS titles, also the Japanese version of The Need For Speed: Skyline Memorial and GT-R, and traffic cars, which all of the cars are in a sporty version.
Car list:
Acura NSX '05
BMW M3 (E30)
BMW M3 CSL
BMW M5 (E34)
Chevrolet Corvette C6.R
Chevrolet Impala SS '96 (EXTRA)
Jeep Grand Cherokee SRT-8 '08 (instead of Grand Cherokee Laredo)
Nissan Fairlady 300ZX
Nissan Fairlady 240ZG
Nissan 200SX
Shelby Cobra 427
Toyota Land Cruiser Prado (instead of Land Cruiser)
Volkswagen Station Wagon Deluxe Type-2
Volvo 850R
Hope you like it! Now, we continue to the updates of all the cars that have been uploaded.
Next Projects? Check Bellow:
SAAB 9-3 Turbo X
Noble M600
Mini pack #5 Dodge Edition
RUF CTR Yellowbird
Saleen S7 Twin Turbo
W Motors Lykan Hypersport