Need for Speed Carbon Downloads
Ford Mustang GT S550 '15 Extended customization (ADDON)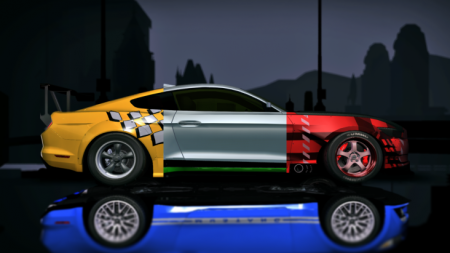 Views 1,714
Downloads 151
File updated on: July 2, 2021
This car replaces None (Addon car)
Hello this is a MUSTANG GT S550 mod for Need For Speed Carbon
This car was Requested by AIROZ675
YOU ARE NOT ALLOWED TO CONVERT THIS INTO ANY OTHER GAME OR REUPLOAD THIS WITHOUT MY PERMISSION

it is highly recommended to read the description and read me file clearly to avoid any bruh moments
This mod require you to have the following things before installation
- A copy of Carbon
- NFSC extended customization by archie
- NFSC unlimiter by nlg
- A functioning brain
this mod only supports English language as of now
This car can be customized with the following
AFTERMARKET:
- 6 BODYKITS (SPEEDHUNTERS,GTR,RAIJIN)
-5 HOODS
-13 CUSTOM SPOILERS AND ALL VANILLA ONES
-REMOVED ROOFSCOOP MENU
-1 EXTRA CARBONFIBRE ROOF
-7 SIDEMIRRORS
-1 EXTRA WHITE SEAT INTERIOR
-2 HEADLIGHTS (PAINT AND CARBONFIBRE)
SPECALITIES
-ALL OF THEM UNCLUDING FRONT AND REAR WINDOW DECALS
ATTACHMENTS:
-6 HEADLIGHT TINTS
-4 TRUNKS
-2 BRAKELIGHT TINTS
-2 ROLLCAGES
-2 EYELIDS
-4 EXHAUSTS (WORKS WITH BODY KITS ALTHOUGH IT WONT FOR THE 6TH ONE YOU HAVE TO EQUIP THE ''ONLY KIT6 EXHUAST'' TO AVOID DOUBLE EXHAUSTS
Q: Can you make this car for mw?
A: nah
Q: Can i convert your mod into mw?
A: nope
Q: Uhh i dont see the fumo in the dash
A: i locked that on purpose, you gotta unlock it in the mod files
Q: How do i unlock the fumo in the mod files?
A: figure it out yourself
Q: More parts?
A: next update vro
Q: Where can i contact you
A: add me on discord here's my tag fridge®#2212 or join https://discord.gg/26FaMdnN
Q: Compatible with battle royale??
A: Yes but you can't unlock it in career mode
Q: Can you make this car from this game pls?
A: Requests are closed for now sorry
Credits:
fridge(me) for converting this car
MaxHwoy - Binary
nlgzrgn - Unlimiter
Blender - Blender Foundation
nfsu360 - NFS-CarToolKit,NFS-VLTED
Tekizyte - For teaching me how to use blender and uv mapping stock wheel
ARCHIE- for making extended customization and helping with exhausts
Clxsport- For proving the car sound source
Bullet GT- for work with the nfs heat sounds
BullShark- for car logo
Vicius- interior texture

that is all enjoy gamers
Version 1.2

uploaded July 2, 2021

Fridge uploaded a new version. The new file is 32.33 MB.

-fixed the badging position

Version 1.1

uploaded July 1, 2021

Fridge uploaded a new version. The new file is 12.3 MB.

-added tire black
-added unlock conditions
-better shader for dullplastic objects
-fixed uv for front bumper and roof a bit

Initial version

uploaded June 29, 2021

Fridge uploaded initial version. The original file is 12.3 MB.