Need for Speed Carbon Downloads
1994 Ferrari F355 Berlinetta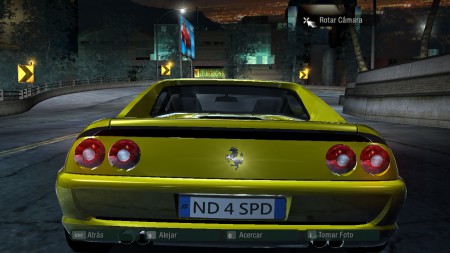 Version Carbon
Brand Ferrari
This car replaces None (Addon car)
1994 Ferrari F355 Berlinetta [ADDON]
***DON'T UPLOAD THIS MOD IN ANOTHER SITE***
***BEFORE YOU DOWNLOAD: I'm not sure if this mod is Compatible with Carbon Battle Royale, Improvement Mod or Endgame Mod since it was tested on base game. Downloading and installing this mod means that you take the risk***
Conversion from Forza Motorsport 4.
It's an Addon, so it doesn't replace anything, but you will need some stuff to make it work correctly.
What does this mod have?
-Custom Performance Data: this car has it own performance data, stock and custom.
-Custom Sound.
-Aftermarket
+Hoods (1, Challenge Parts in "Beast" Hood.)
+Rims.
-Visuals
+Paint.
+Vinyls.
+Rim Paint.
+Ride Height.
+Window Tint.
Special Things
+Need For Speed World's Female Driver.
+Working Brakelight texture.
+Working Pop-Up Headlights [Requieres AR4I's Extended Customization to make them work, link included in readme.txt].
+Cops call this as "Sports Car".
+Proper Damage (Body and Windows).
+Unlocked alongside Porsche Cayman S.
Bugs and some details...
Did you find a bug? Please comment or PM me.
Installation
Every Step is fully detailed in "readme.txt". If you have problems, feel free to comment.
Last comments
Cops call this car as "Sports Car" since there's no Verbal Type for "Ferrari".
I was in doubt about adding vinyls into this car. At the end I decieded to include them...
And as always... Do you think performance can be improved? Feel free to edit, but please share to the community, so everyone will enjoy the mod.
Credits
+Turn 10 Studios
+Cyrax: Ripping the model.
+Oleg: ZModeler 2.2.5.
+Make Davis & JYSB59: Forza Studio 4.6.
+dotPDN LCC.: paint.NET.
+nfsu360: NFS Carbon ModTools v1.1, NFS VltEd v4.5, NFS-TexEd v0.9.1 and v1.1.
+maxhwoy: Binary v1.0
+Electronic Arts: Worlds's Female Driver Model.
+AJ_Lethal / johnson880319: World's Female Driver Texture.
+Henry_Allen05: Conversion to Need For Speed Carbon.