Need for Speed Carbon Downloads
2013 Bugatti Veyron Grand Sport Vitesse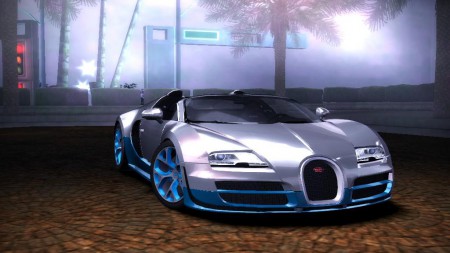 Views 1,334
Downloads 252
Version Carbon
Brand Bugatti
This car replaces Lamborghini Murciélago (MURCIELAGO)
2013 Bugatti Veyron Grand Sport Vitesse
Game:
Need For Speed Carbon
Replace:
Lamborghini Murcielago
v1.1
*Fixed missing parts
Can be customized with:
- Perfomance
- Visuals
- Rims(+3 addition rim colors in KONIG rims)
- Bodykits(5; official GSV paints. Spoiler close)
- Autosculpt spoiler(10; 5 official GSV paints with 2 different spoiler positions)
Features:
- Working brakelight texture
- NFS UC Driver model
Installation:
1.Unpack all fies.
2.Run setup.exe and select NFS Carbon main directory.
Credits:
Firemonkeys/EA - mesh & textures
nfsu360 - for NFSC ModTools
Oleg Melashenko - for ZModeler 1.0.7.& 2.2.5
Eclipse 72rus aka CorvetteZ06 - converting to NFS Carbon.